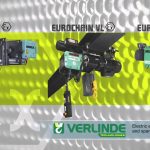 Verlinde's ATEX-certified explosion proof product line
VERLINDE have designed a range of explosion and spark proof hoists, with a close awareness of their customer's requirements, for use in many different fields such as food industry, chemicals, petrol, gas industries, and any environment where safety in production is a key concern.
This range of lifting units is now manufactured to comply with the new ATEX 100a (94/09/EC directive applicable in 2003) and the EC standard (EC marking, EC documentation, EC inspection certificate, EC compliance approval). To comply with requirements of the ATEX 100 directive equipment is classified into 5 categories according to the explosion risk level in the working area.