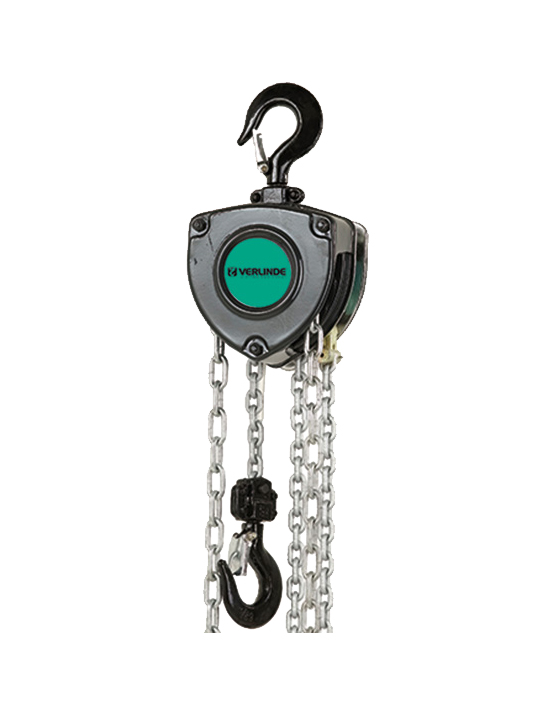 Χειροκίνητα Παλάγκα Αλυσίδας VHR-ZHV από 250 έως 50.000 kg
VHR – HRP
Especially designed for use in areas where optimal use of short headroom is essential.
HPR CHDD for overhead VHR manual chain block
Controlled via handwheel and chain
Easy to adjust for different flange widths up to 305mm
Trolley body made of high-resistance steel
Side plates finished with RAL 7021 dark gray coating, 70 µ thick
Steel rollers machined for smooth movement
Rollers compatible with all types of I and H beams
Wheel ball bearings are moisture-tight and maintenance free
Galvanized hand chain
Fall-prevention brackets and rubber stops
Loads up to 20 tons
Serial number inscribed on chassis
Extra
Ex version with ATEX Marking
Stainless steel lift and hand chains
Epoxy Painting (min. 50 µm).
Machined chain sprocket and gears provide smoother, more efficient operation.
High strength alloy steel load chain with corrosion-resistant galvanized
Galvanized hand chain.
ZHV's compact design offers safety together with reduced weight.
Ideal for construction and maintenance applications.
Steel casing solidly protects chain sprocket, gearcase and handwheel cover.
Upper and lower alloy steel ISO hooks with safety latches.
Delivered with CE certificate.
Extra
ZHV with EX ATEX marking (bronze coated hook, polyester paint,…).
ZHV full stainless steel (hoist frame, chain, hook,…).
ZHV with Aluminum Ceramic Coat (min.30 ?m).
ZHV with Aluminum Ceramic Coat (min.30 ?m) and additional polyester paint.
ZHV with Offshore paint coating.
Locking device on trolley, activated by hand chain.
ZHV with normal headroom trolley (HPN).
ZHV with short headroom trolley (HPR).
ZHV with trolley for curved beam (HPNB).
ZHV with short headroom trolley (HPR).